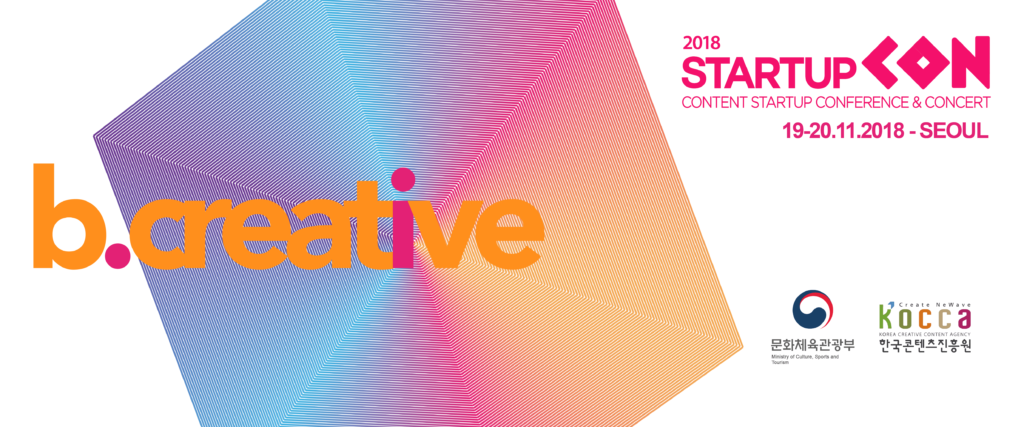 b.creative is proud to partner with Korea Creative Content Agency (KOCCA) and the Korean Ministry of Culture to contribute to Startup:CON 2018 in Seoul on 19-20 November 2018. STARTUP:CON is an annual conference organised by KOCCA dedicated to culture and creative entrepreneurship. It will be attended by more than 1,000 entrepreneurs and start-ups from South Korea and abroad.
The b.creative delegation will participate in the event as main speakers and panellists with a view to give a European perspective on cultural and creative entrepreneurship. It will animate a dedicated b.creative workshop on supporting the internationalisation of cultural and creative industries.
Philippe Kern, director of KEA European Affairs will present b.creative, the international network of creative entrepreneurs. He will be accompanied by two young European creative entrepreneurs representative of Europe's excellence in augmented reality and design:  Sergiu Ardelean, the co-founder of Artivive, awarded best Austrian Startup at Pioneers 2018 and Rui Quinta, co-founder of With Company, a strategic design company from Portugal.
After Shanghai and Mumbai in 2017 b.creative is proud to be back in Asia.
---
For more information, please contact Clémentine Daubeuf cdaubeuf@keanet.eu
---
b.creative is a unique network of creative entrepreneurs worldwide with 2,500 professional contacts in culture and creative industries, including 305 creative spaces in 100 countries. The b.creative network brings together a global community to network, exchange ideas and share projects.