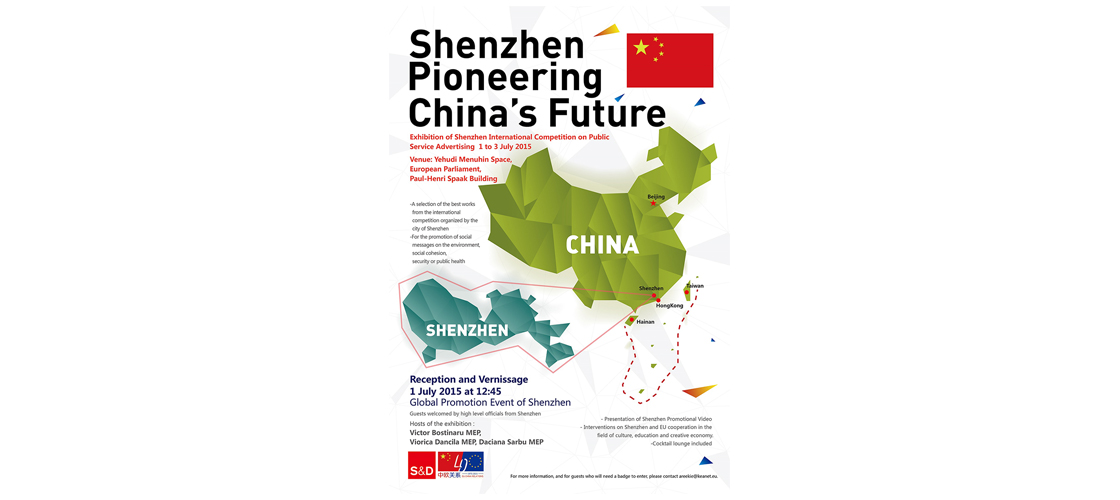 INVITATION
Reception and Exhibition
12:45 Wednesday, 1st July 2015
European Parliament Brussels
On behalf of the Shenzhen Municipal Government you are invited to take part in Shenzhen: Pioneering China's Future. This Unesco creative city is coming to the heart of Europe to foster new relations.
Here is an opportunity to meet high representatives from the city face to face at the reception starting 12:45.
This will also be the opportunity to discover an exhibition of works from Shenzhen's International Competition on social advertising campaigns, photo portrait works, ane example of the ancient art of calligraphy.
This event is taking place with the support of Members of the European Parliament Mr Victor Boştinaru, Mrs Viorica Dăncilă and Mrs Daciana Sarbu.
PRACTICAL INFORMATION
Online registration is compulsory via the "register here" link above. If you do not have an access badge to the European Parliament you will not be able to get in without prior registration.
Deadline for registration is Wednesday 17 JUNE 2015 (for security reasons we have to submit the list of attendees by that date).
Venue: Yehudi Menuhin Space, Paul-Henri Spaak Building (PHS), European Parliament, 60 rue Wiertz, 1049 Brussels
For information contact: areekie@keanet.eu