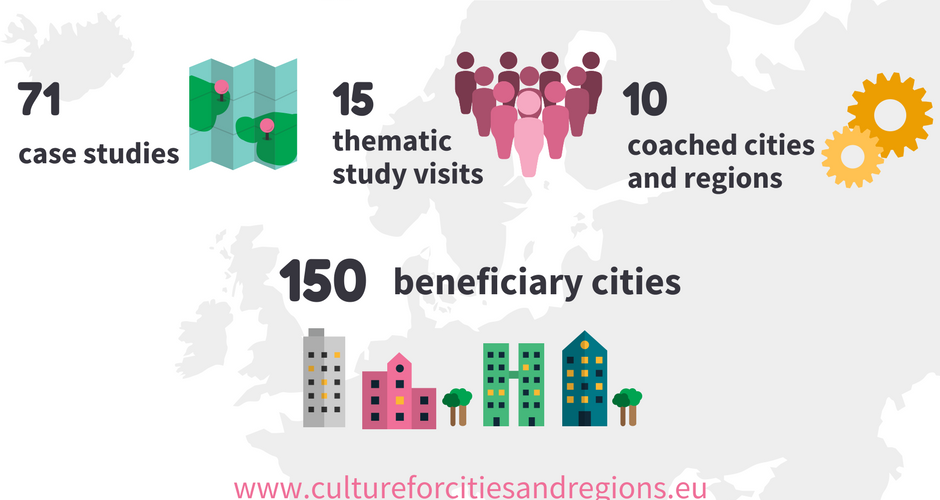 Cities are drivers of innovative cultural policies that add value to urban and regional development. Increased cultural investments at regional and city levels should be supported through long term programmes at EU level.
These were the main findings of 'Culture for Cities and Regions', the three-year initiative, financed by Creative Europe and run by EUROCITIES and KEA European Affairs.
The initiative also demonstrated high demand from cities and regions for the peer-learning method it developed to exchange experience and strengthen cooperation on cultural policies.
Anna Lisa Boni, secretary general, EUROCITIES, said:
"The Culture for Cities and Regions initiative is a great example of the added value of EU funding. Such peer-learning processes are very difficult to implement without it – at least at such a scale – and it allows for the involvement of a high number of professionals working in the field of culture and creative industries at local level. Sustaining and strengthening this component of the initiative over the long run would certainly contribute to delivering greater social, economic and cultural impacts across Europe in a cost-effective way."
During the course of the initiative, Culture for Cities and Regions:
Delivered a catalogue of 71 case studies containing detailed and searchable information on local/regional cultural initiatives;
Organised 15 thematic study visits involving politicians and local policy makers;
Arranged tailor made coaching for 10 cities and regions willing to implement concrete solutions on the ground;
Directly benefitted about 150 cities through their active involvement in study visits and coaching activities.
Cities are facing new challenges when it comes to cultural policies and adopting flexible approaches to urban and regional development is key. Culture can be used to support economic activities, encourage civic pride and support cross disciplinary and transnational interactions to enable creative skills to contribute to innovation.
Philippe Kern, CEO, KEA European Affairs, said:
"The Culture for Cities and Regions project highlights the importance given by cities to mainstreaming culture in a wide range of urban policies. Culture is everywhere. Cultural workers are yet to make the most of these new cultural policy trends."
One of the key objectives of the project was to ensure transferability of results and long term impacts in participating cities and regions. Ensuring that EU funding is available to develop similar peer-learning projects over the long term will help mainstream cultural policy and promote links between innovation and culture across our cities and regions.
1. EUROCITIES and KEA European Affairs, in partnership with ERRIN (European Regions Research and Innovation Network), manage Culture for Cities and Regions, a European Commission initiative funded by the Creative Europe programme to support cities and regions in making sound investments in culture. The project started in January 2015 and ran until September 2017. It enabled the exchange and transfer of knowledge between local and regional authorities, to better understand successful examples of investment in creative industries, cultural heritage and culture for social inclusion, and to go into the details of policy planning and implementation.

2. The Culture for Cities and Regions final event will take place alongside the EUROCITIES Culture Forum in Ghent on 25 October 2017. Invited representatives from the European institutions, other cultural networks and EU-funded projects will have an opportunity to connect initiatives and strategies.

3. More info available at: www.cultureforcitiesandregions.eu
Media contact:
Clémentine Daubeuf:  +32 2 289 26 09 // cdaubeauf@keanet.eu
Alex Godson: +32 495 298 594 // alex.godson@eurocities.eu
This press release is jointly published by KEA European Affairs and Eurocities.