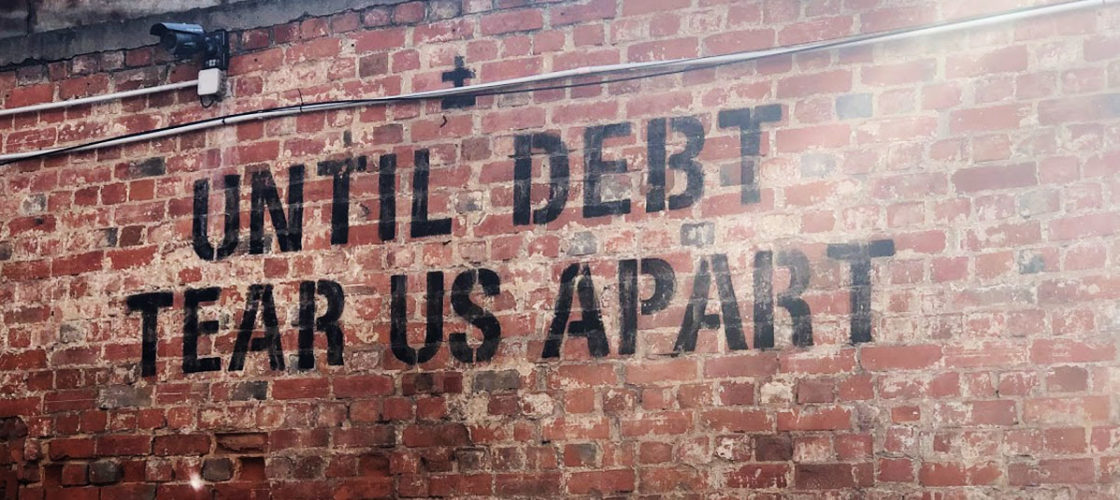 Graphiti urbain par l'artiste portugais Miguel Januario / © Image credits: KEA European Affairs
Il convient d'analyser la sortie de la crise sanitaire du point de vue culturel et d'impliquer activement le monde créatif aux scénarios de « l'après ». On veut croire que la fin de la pandémie apportera un monde meilleur, comme un coup de baguette magique, comme si les crises financières ou sanitaires précédentes avaient transformées et freinées les dérives du monde. La course à la destruction de la planète, des cultures n'en a été que plus rapide. Comme hier nous avons nos nouveaux coupables: les Chinois sales, imprudents et soumis, les nations cupides et égoïstes, l'arrogance européenne et américaine. Passons sur les autres préjudices culturels et manipulations politiques, prétextes à de nouvelles violences qui nuisent à la solidarité, à la recherche de solutions communes pour un monde dépollué, fraternel, juste, solidaire et respectueux des identités de chacun.
La crise (qui confine la moitié de la population mondiale) est une nouvelle opportunité de mobiliser pour influencer des changements de comportement. Pour battre le consumérisme, les gaspillages de ressources, la pollution, les inégalités, le radicalisme il conviendra de valoriser la qualité sur le nombre, le sensé sur le superficiel, le culturel sur la technique, le beau et l'imaginaire sur le standard et le préconçu.
Pour confronter les problèmes de notre planète de manière efficace on ne pourra se passer de la construction de solidarités, de liens de confiance et de fraternité. La sauvegarde de la planète, de son environnement et de l'humanité se fera dans un élan commun ou ne se fera pas. Les conditions d'une coopération mondiale exigent la considération de la mise en œuvre d'un avenir convivial, généreux et civilisé, respectueux des cultures pour un ressourcement identitaire planétaire généreux et tolérant.
Pour établir cette dynamique d'espérance il faudra des combattants de la cohésion sociale, des soldats du beau, de l'empathie, de la coproduction internationale et du dialogue interculturel. Les bataillons des acteurs de la culture disposent de la faculté de porter un regard critique sur les évolutions de la société, d'en comprendre les ressorts patrimoniaux mais aussi d'inspirer une incroyable capacité de mobilisation et d'innovation. Ils peuvent être à l'origine d'un renouveau de coopération au niveau mondial et européen, contribuer à élaborer le narratif sans lequel il ne peut y avoir de bon diagnostic ni de changement.
A ce titre, la mobilisation et la confiance des populations doit être une priorité pour remettre en cause les comportements et mettre au défi les positions acquises. L'expertise du secteur créatif à diagnostiquer, communiquer, confronter, à créer de la convivialité, du participatif dans l'espace public est de nature à encourager les prises de conscience collective. Le monde culturel est le mieux placé pour valoriser l'humain, la nature, la liberté d'expression et d'entreprendre pour une société éthique, solidaire et responsable. Il a aussi cette capacité à régénérer les esprits des contraintes de la vie quotidienne, à vaincre les fatalités sociales et dynamiser les territoires en friche.
La régulation future devra donner la prééminence à une production qualitative, soucieuse de l'environnement et de la personne, à une offre numérique (médias, loisirs, éducative) culturellement diverse et soutenant les coexistences culturelles, aux réseaux sociaux responsables. Elle devra encourager les comportements éthiques, les organisations collectives et solidaires alternatives aux monopoles et à la cupidité.
L'Europe peut donner l'impulsion à condition de changer de méthode, de prendre le risque de l'innovation, de court-circuiter les hiérarchies établies, de remettre en cause ses analyses et d'être en mesure d'inspirer pour une mise en œuvre collective. À ce titre, la sortie de crise ne peut se passer des compétences du monde de la création. Ce dernier est en mesure d' insuffler de manière singulière, en contrepoint d'une méthode purement scientifique et technique, une dimension originale dans le diagnostic et la recherche de solutions pour un monde bienveillant et sensible. Le progrès ne peut se concevoir sans la prise en compte de la dimension culturelle.
Vite ! Mobilisons les artistes et les acteurs culturels pour sublimer la crise sanitaire. Il ne peut y avoir de comité de prospective sans intervention artistique. Le monde de la création est le mieux à même d'imaginer un monde meilleur.
Note informative:
De nombreux acteurs culturels se mobilisent pour rassembler les régulations mises en place pour aider les professionnels de la culture à survivre durant cette période de crise. Dans notre article Worldwide policy responses to COVID-19 in support of the CCS, nous faisons l'inventaire et examinons les différentes réponses politiques établies pour soutenir le secteur culturel. Nous avons également mis en place une carte collaborative qui recense les mesures politiques aux niveaux local, national, Européen et mondial, et que nous mettons régulièrement à jour.
Ces réponses politiques réactives sont essentielles pour protéger le secteur culturel et ses professionnels à court terme. Cependant les économies culturelle et créative devraient également être envisagées comme des alliées à long termes pour construire un monde plus résilient. Dans notre livre The Future of Cultural Policies, nous mettons en lumière le rôle que joue la politique culturelle dans un monde en changement perpétuel et nous proposons des actions concrètes pour faire de la culture un vecteur de changement et de sens pour du monde.
Cet article est également disponible en anglais.
Philippe Kern