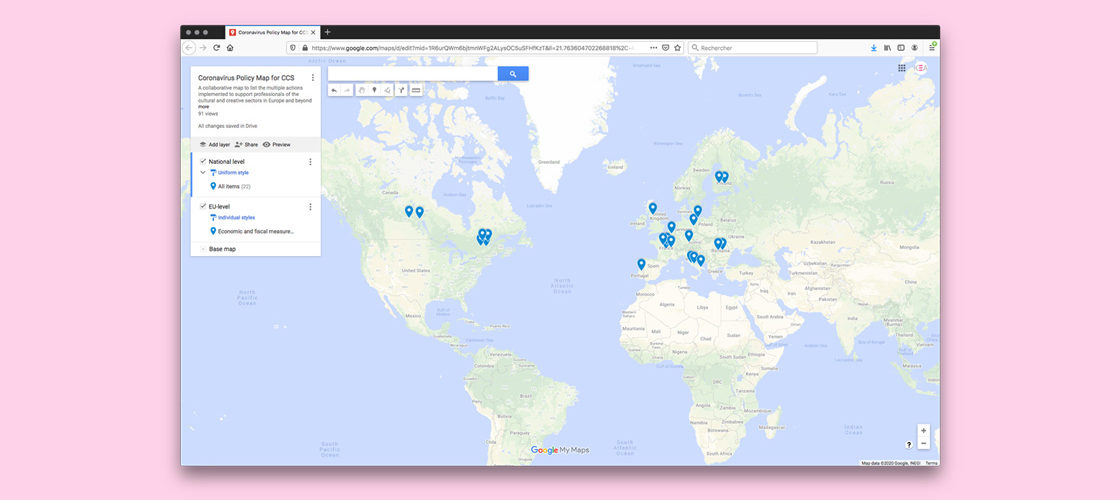 Find out what measures are taken for the cultural sector
You'll find here the multiple measures taken to support professionals from the cultural and creative sectors in Europe and beyond during the covid-19 period. We have set up a collaborative map to collect all the measures and actions by country and on the European level. Since it is a collaborative work, both the content of this post and the map will be subject to regular updates.
Collaborate to the Coronavirus Policy Map
Do you want to add information on the map? You can either add it yourself, send an email to Benoît Jacquemet at bjacquemet@keanet.eu or leave a comment at the bottom of this page.
Please specify in your message or comment the following information:
A title for the measure
A quick description
A link for more information
Add information yourself on the map
You can also add information yourself directly on the map by following these instructions:
Go to the map's webpage
Select a layer: National level or EU level
Add a pin
Add information
Share the map
Share it from this article or go directly to the map's webpage.