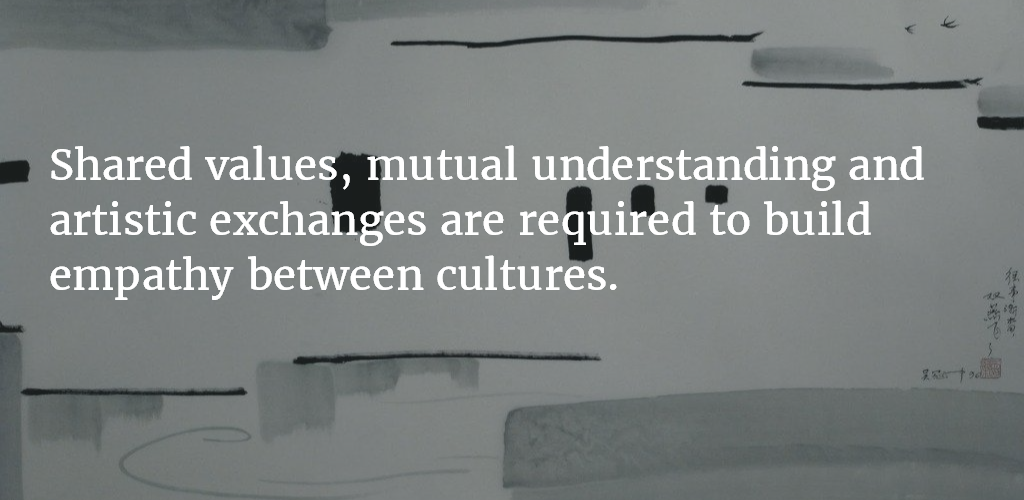 Independently of conducting wide ranging studies and making recommendations to European authorities on ways to harness Europe's collective soft power (1), KEA also has practical experience working with NGOs to enable Art to contribute to external relations.
We started in 2008 when we teamed up with NGO, Art for the World (www.artfortheworld.net ) on the project Stories on Human Rights, 2008 an extraordinarily rich film production made to celebrate the 60th Anniversary of the Universal Declaration of Human Rights. 22 short films were produced with world renowned film directors and visual artists. Art for the World, under the leadership of Adelina von Fürstenberg the founder, is now celebrating its 20th Anniversary.
Based respectively in the major international diplomatic centres of Geneva and Brussels, Art for the World and KEA both have track records in punching above their weight because of their shared passion for the arts and culture, their belief in its transformative power as well as faith in international public organisations (such as the United Nations or the European Union) set up after the second world war to bring peace, fight aggressive nationalism, prejudices, intolerance and ignorance.
Both Art for the World and KEA share a history of bridging relationships between the disruptive Art world and intergovernmental organisations set up to build a better or more cohesive world.
International institutions, whether the European Union (EU) or the United Nations (UN) are now confronted with new forms of cultural conflicts stemming from globalization, political mistakes and cultural prejudices. International institutions with high ideals are increasingly identified as powerless bureaucracies forced to a standstill or relegated to carrying out mere project management. Bureaucratic customs, obscure technocratic language combined with diplomatic fears mean that their endeavours are increasingly sidelined. Their difficulty to speak out, be heard and actually stand for the values they were created to defend is generating increased frustration among the very citizens of the world they are meant to be empowering. The situation is sad, as promoting justice, peace and fraternity requires wide support as well as courage, risk taking, boldness and confidence.
International public organisations are now being challenged to develop visions and policies that are more relevant to these times of cultural conflict and resurgent nationalism. The world of Art, as a form of expression, a language that can challenge comfort zones and prejudices, should be a source of inspiration.
Art contributes to a better understanding of human conditions and goals. It is not a question of artists shaping policies, taking sides or being militant, it is more a question of putting Art at the service of norms adopted by the international community to foster justice, peace, equality and freedom.
Art is a powerful mediator between different points of view (whether philosophical, religious or social), traditions, attitudes and views of the world. Artistic expression helps us to understand that the world is diverse and that this plurality and complexity is the essence of the world. The consideration of Art is a step towards accepting the world's different cultures, values, beliefs and superstitions. Art embodies opinions connecting humans with ideals, the same ideals that are enshrined in the International Conventions and Charters of the United Nations or the European Union.
Whatever the meaning given to Art it remains an essential means of provoking critical thoughts and creating a distance from the world's realities. It operates as a resistance to simplification, enabling consciousness and the emergence of salutary doubts.
In its way Art contributes to building a world without boundaries in which personal imagination, intuition and poetry meet the universal in its legal, theoretical and rational dimension to stimulate mutual understanding, solidarity and cooperation for a better world.
International governmental organisations such as the United Nations and the European Union should be more present in the public space beyond their dry, technical and laconic press releases or cocktail diplomacy. Art is helping to give a visual and diverse identity – as diverse as the singular artistic intervention – to legal principles. Artists are providing an interpretation of norms, often abstract concepts for the latter. They are expressing such norms as paintings, performances or films. Artists are ready to confront their personal universe with the world's contingencies and insufficiencies to raise questions about preconceptions and prejudices.
In a world vitiated by foreign humiliation, injustice, sentiment of abandon, economic harshness, xenophobia and gender inequality, it is now evident that free trade and economic spaces alone will not be sufficient to generate world harmony and a sense of common destiny. Beauty and its representations, shared values, mutual understanding and artistic exchanges are required to build empathy between cultures.
International institutions should engage more with Art to trigger discussions, engagement in the international community and to help the transformation of international consciousness. This collaboration with Art will enable the development of policies that lift people's horizons and give reasons to believe in a common and shared future respectful of diversity.
It is KEA mission to serve this ambition.
Philippe Kern
---
Sources:
(1) Preparatory Action "Culture in EU external relations", Engaging the World: Towards Global Cultural Citizenship 2014 – Download the study.
Feasibility study exploring the different possible modus operandi for making available a package of European Films – Download the study.
Study on "European Cultural Institutes Abroad" in the context of a culture strategy in the EU 's external relations – Download the study.
Creative Tracks: supporting networks of young creative entrepreneurs: EU & Third Countries (project that kicked off in January 2016).